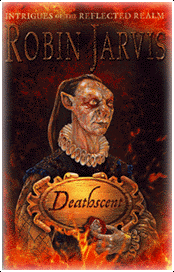 Deathscent is the first title in
a startling new fantasy adventure series by Robin Jarvis.
Set within the uplifted isles of the Reflected Realm, where mechanical creatures have replaced living animals, the forsaken manor of Malmes- Wutton nurtures a stranger who will change this wondrous world forever.
Hailed as a heavenly messenger, the stranded traveller alters everyone's lives, bearing unknown gifts, and secrets greater than even the wisest could possibly imagine.